! ALINK=current (Actual), VLINK=old, LINK=virgin link>

<! purple "#8A2BE2"> <!*************************** Deleted following bees *****************************>


Birdsong (when it finishes loading) is the rare NZ Kaka, a forest-parrot song-bird.
BadAssBees Index



Tramping paradise.

Click the thumbnails for a larger picture.

This page operates ONE slave window.
&nbsp
From time to time (when i manage to escape the endless chores for a couple of days) i climb Mt Elliot and go tramping (known to the rest of the world as 'hiking').
&nbsp
Mt Elliot is quite remote, being a half hour drive along a single-lane gravel road through bush to find the nearest village. But over the BACK of Mt Elliot is wilderness, millions of acres with no roads.
&nbsp
I have done the 1320 metre climb (4330 ft) in just 2 hours, but with a pack and tent, 4 hrs is what it took me last time...
&nbsp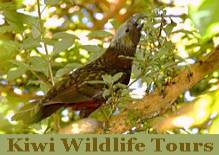 Just below the tree-line i was investigated by some kaka (A large melodious forest parrot - the background birdsong on this page), but despite scoping me out from several different vantage points they were too mobile to present me any good photos (this photo is 'borrowed' from Kiwi Wildlife Tours - click the pic' to visit their site).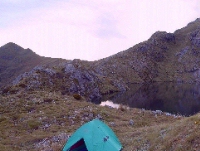 Just on the other side of the ridge, high above the tree-line is a small lake.
&nbsp
On the far bank, just below the mountain's peak, is a small cave over-looking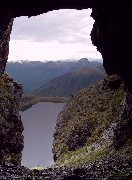 the lake.
&nbsp
Exploring the cave revealed a small scrape in the steeply sloping floor - wildlife had bedded down there. Given the effort it takes to get up here, i enlarged the scrape and next time i'll leave the tent behind at the bottom of the climb...
&nbsp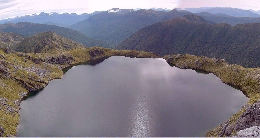 The cave looks over the lake and the mountains beyond - the view from the top shows range after range untouched by civilisation.
&nbsp
I must ignore my chores more often... &nbsp
&nbsp


&nbsp
&nbsp
Not getting any younger...
&nbsp
&nbsp
"At the moment our human world is based on the suffering and destruction of millions of non-humans. To perceive this and to do something to change it in personal and public ways is to undergo a change of perception akin to a religious conversion. Nothing can ever be seen in quite the same way again because once you have admitted the terror and pain of other species you will, unless you resist conversion, be always aware of the endless permutations of suffering that support our society."
&nbsp &nbsp &nbsp &nbsp &nbsp &nbsp &nbsp &nbsp &nbsp &nbsp &nbsp &nbsp &nbsp &nbsp &nbsp &nbsp &nbsp &nbsp- Arthur Conan Doyle
&nbsp
&nbsp


BadAssBees Index


Cursor following bees swiped from Jeff Davies site: Beekeeping the Natural Way using Oils and Herbs



Email Me






My usual webcounter is going to start charging - so i'm trialing other free counters below...
&nbsp


&nbsp
&nbsp


EasyCounter &nbsp
&nbsp
&nbsp



Since 26/5/3 &nbsp
&nbsp
&nbsp